Numerical Simulation of Wet Flue Gas Desulfurization (WFGD) Reactor Based on Barracuda Software (China) – October 21, 2022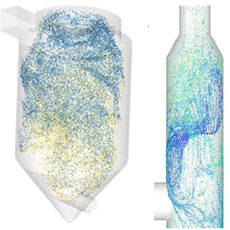 This event is hosted by Beijing Hikey Technology Co. Ltd. and will be presented in Chinese.
Relevant industry background introduction:
my country's fuel composition is mainly coal combustion, and coal combustion accounts for about 80% of the total energy consumption. Therefore, coal combustion has become the main source of air pollution in my country, especially SO2, which is the main reason for the formation of acid rain, which contributes to the ecological environment and human economy. caused great harm. Desulfurization equipment generally refers to a series of equipment used in the production of electric power, metallurgy and other industries to remove sulfur in coal and prevent the formation of SO2 during combustion. With the continuous improvement of air pollutant emission standards and the continuous tightening of environmental protection policies, the coal-fired flue gas desulfurization market will enter a relatively rapid development stage in the future.
Description of the combination of software and industry applications:
Barracuda software based on CPFD (Computational Particle Fluid Dynamics) method is a commercial software package dedicated to industrial particle fluidization and chemical reaction simulation. Its advantages include fast simulation modeling method, efficient and stable multiphase flow coupling solution tools, convenient chemical reaction modeling methods, and the number of industrial-scale particle simulations. The industrial-scale desulfurization reactor has the characteristics of large equipment size, complex particle size distribution, and reaction with multi-phase and multi-component particles. The use of Barracuda can well simulate the multi-phase flow and chemical reaction in the desulfurization reactor. The simulation results It can provide theoretical reference value for the structure and process optimization of the desulfurization reactor.
Course content:
1. Background of domestic and foreign desulfurization industry
2. Computational particle fluid dynamics method
3. Experimental verification
4. Application of CPFD method in industrial desulfurization tower
Related Events