Barracuda Numerical Simulation of Fcc Reactor in Catalytic Cracking of Petroleum (China) – September 14, 2022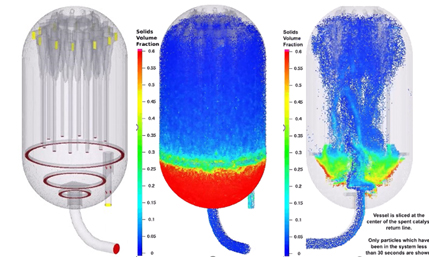 This event is hosted by Beijing Hikey Technology Co. Ltd. and will be presented in Chinese.
Relevant industry background introduction:
Oil is an indispensable part of industrial production and life. In the past few years, global oil production has increased and risen to varying degrees. With the acceleration of the domestic supply-side reform, the oil production capacity reduction effect is obvious, the oil industry has eliminated outdated production capacity, and the oil production has been greatly improved, and the petrochemical equipment industry will gradually increase in the future. On the whole, China's economy will continue to maintain stable and rapid development, industrialization and urbanization will continue to deepen, and the domestic market for petrochemical products has huge potential.
Description of the combination of software and industry applications:
Barracuda software based on CPFD (Computational Particle Fluid Dynamics) method is a commercial software package dedicated to industrial particle fluidization and chemical reaction simulation. Its advantages include fast simulation modeling method, efficient and stable multiphase flow coupling solution tools, convenient chemical reaction modeling methods, and the number of industrial-scale particle simulations. There are usually drastic changes in temperature in the petroleum catalytic cracking reactor. The use of Barracuda can very realistically simulate the temperature distribution and chemical process of the fluid and particles in the petroleum catalytic cracking equipment. Structural optimization.
Course content:
1. Introduction of petroleum preparation industry
2. Introduction to CPFD method
3. Application of Barracuda in FCC reactor
Related Events