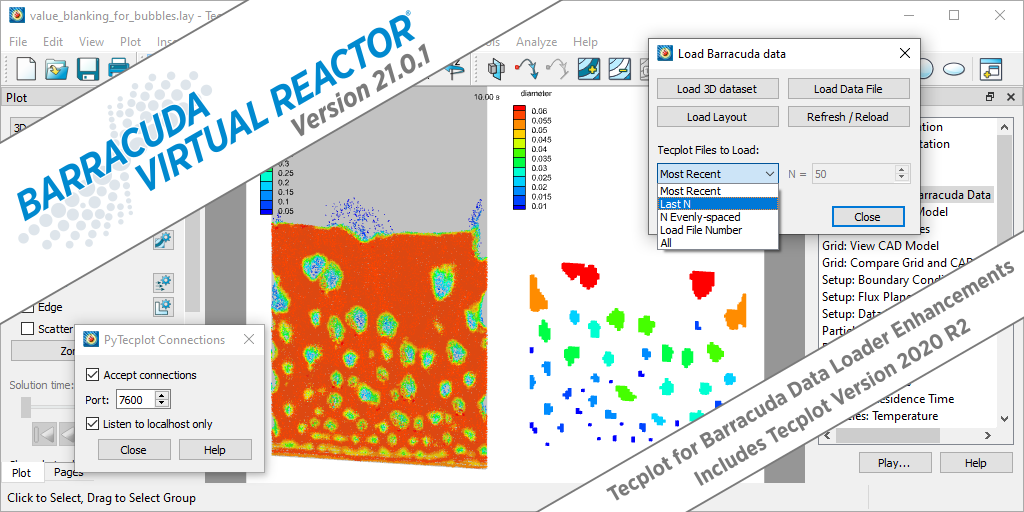 CPFD Software is pleased to announce the release of Barracuda Virtual Reactor® 21.0.1, which is a maintenance release correcting several issues.  See the Known Issues page for details.
Also included in this release is a change to the default behavior of the Barracuda Loader in Tecplot for Barracuda, and new options have been added to the Load Barracuda Data dialog for choosing which solution times to load.  This change is intended to allow the majority of Virtual Reactor users to work in a more efficient manner, and we encourage users to view the following training resources that cover the new recommended workflow for loading data in Tecplot for Barracuda.
If you have installed version 21.0 previously, we encourage you to upgrade to version 21.0.1.  To download this release, visit the Barracuda Virtual Reactor 21.0 Release page (CPFD Support Site account required for login).
For more information about the powerful new features in Virtual Reactor 21, including single GPU speed-up and multi-GPU acceleration, read the Barracuda Virtual Reactor 21.0 Release announcement.