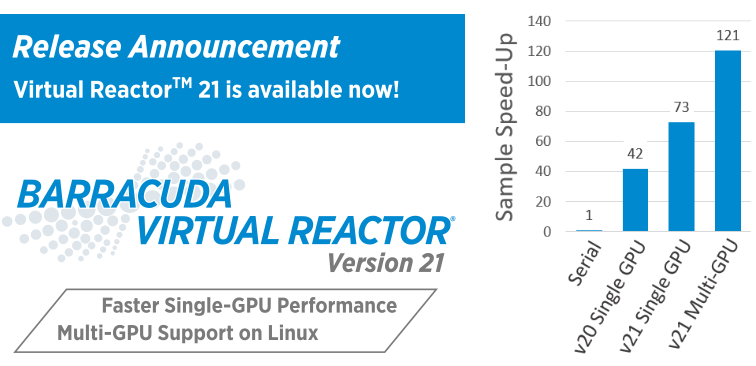 CPFD Software is pleased to announce the release of Barracuda Virtual Reactor® 21.0.  This release is the first to support multi-GPU calculations, enabling users to run larger simulations than ever before, and to do so at faster speeds than any previous version of Virtual Reactor™. This release also includes updates and enhancements that improve usability and post-processing capabilities, including:
GPU Acceleration Enhancements

Multi-GPU Acceleration (Linux Only)
Solver Test Drive Mode
GPU Memory Oversubscription (Linux Only)
Single-GPU Speedup on both Linux and Windows

Improved Particle Size Input and Output Options
Clouds Representing Fractional Particles
Updated Version of Tecplot for Barracuda (2020 R2)
Streamlined Tecplot Launching Shortcuts
Updates to Tecplot for Barracuda Quick Macro Panel
To download this release, visit the Barracuda Virtual Reactor 21.0 Release page (CPFD Support Site account required for login).
To watch playback of our Getting Started with Virtual Reactor 21 Webinar, visit our webinar playback post.