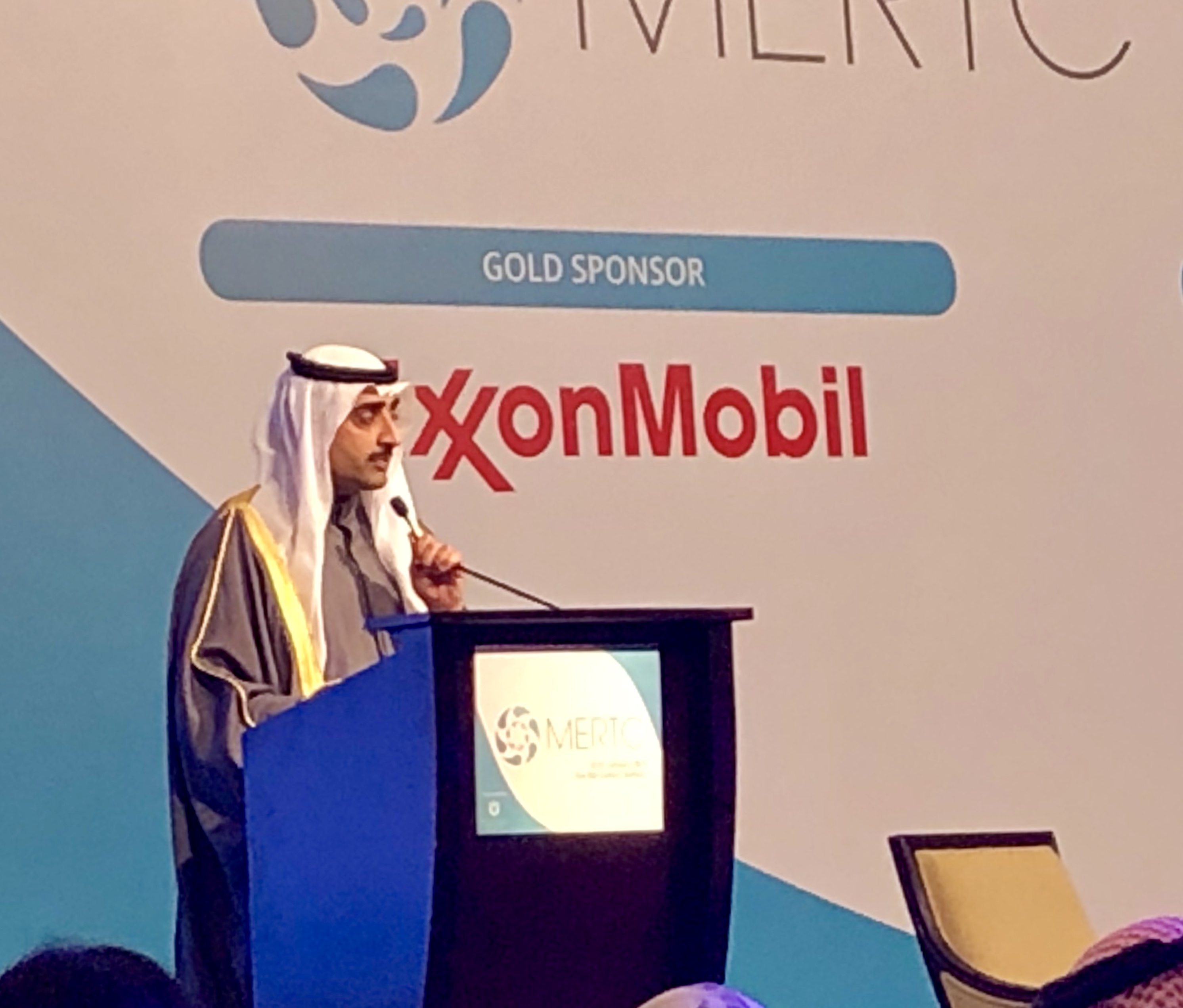 The Kingdom of Bahrain's Minister of Oil, H.E Shaikh Mohammed bin Khalifa bin Ahmed Al Khalifa, speaking at the 2019 Middle East Refining Technology Conference.
CPFD Software is excited to announce that we have again been invited to speak at the 2020 Middle East Refining Technology Conference (MERTC) held by the World Refining Association at the Ritz Carlton in Manama, Bahrain, March 2 – 4, 2020. Visit the capital of the Arabian Gulf island nation of Bahrain to network with the region's downstream community to collaborate and learn about the latest technological developments and strategies that will drive and shape the industry in 2020.
There you will find Peter Blaser, VP of Engineering Services for CPFD, presenting on The Role of FCC Catalyst Beyond the Reactor at 3:50 PM on Tuesday, March 3 as part of Stream B: Catalyst Technologies.
A good choice of catalyst is critical for today's refiners.  Catalyst directly contributes to the FCCU's flexibility in processing a wide variety of feedstocks while maximizing economic benefit from the product slate produced.  With ever increasing regulatory and other external factors, such as those related to IMO 2020, the importance of choosing the right catalyst for each refinery increases as well. Catalyst considerations commonly include items such as yield, selectivity, coke make, metals passivation, and so forth.  These factors primarily relate to the catalyst's function within the reactor. However, in an FCCU, optimum performance is also related to non-conventional catalyst properties, such as its fluidization behavior outside of the reactor, which is often poorly understood. If problems arise, it can be unclear whether the catalyst is to blame, or something else.
This presentation examines how the catalyst affects FCCU performance beyond the reactor.  Simulation is used to explore root cause of underperformance. Case studies from multiple refiners are presented to highlight situations where the catalyst impacts performance and examples where other root or contributing causes exist for the observed behavior. Examples include stripper/standpipe catalyst circulation stability, regenerator-side catalyst losses and emissions.
To set up a one-on-one meeting, contact us at info@cpfd-software.com. Learn more about the conference and registration here. Come network and stay up to date on how to remain competitive in a downstream industry.
Please visit our FCC Resources page for additional information on CPFD's involvement with Refining applications.
UPDATE: MERTC ANNOUNCES 2020 POSTPONED Following the outbreak of the Coronavirus, MERTC has been rescheduled to take place later in 2020. We have made this decision in consultation with our partners, venue and local team. The venue and programme will stay the same and we will keep you fully informed of any further developments
---