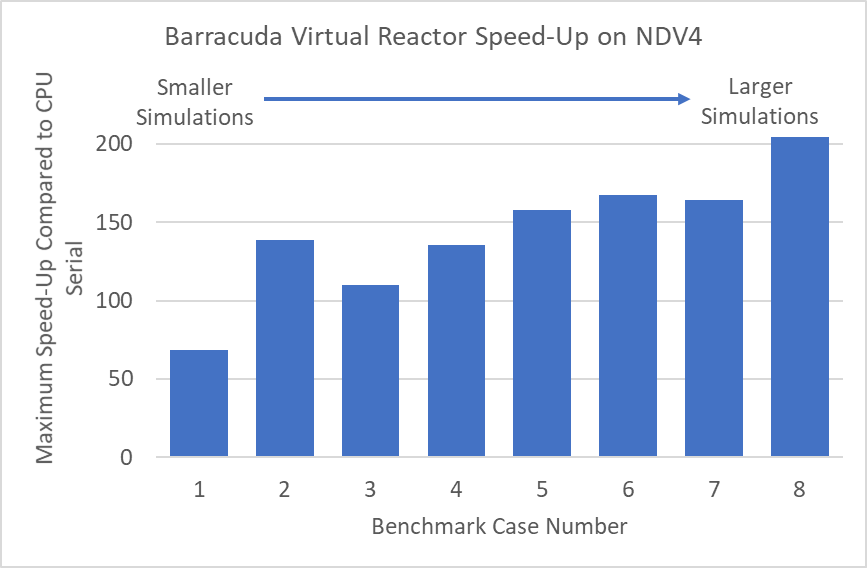 CPFD Software remains on the forefront of high-performance computing utilizing GPU and multi-GPU acceleration.  As a result, week-long simulations can be completed in an hour and previously intractable problems are possible to solve with meaningful resolution.
Now, Barracuda Virtual Reactor users have instant access to virtually unlimited, on-demand computational capacity through Microsoft Azure.  Azure is a leading cloud computing service offering Virtual Machines (VMs) with high-end NVIDIA GPUs.
We recently tested Virtual Reactor on Azure's state-of-the-art NDv4 VMs to showcase performance scalability across a variety of models.  Sample performance benchmarks are shown in the plot for eight different sizes.
According to Peter Blaser, CPFD Software's Vice President of Operations: 
"Azure's multi-GPU virtual machines powered by NVIDIA A100 Tensor Core GPUs provide the global Barracuda Virtual Reactor user community with instant access to the latest high performance computing resources without the overhead of purchasing and maintaining on-premise hardware.  The observed speed-ups of over 200x, combined with the convenience of the Azure Platform, provide our clients with virtually unlimited, on-demand, compute bandwidth as they tackle some of our planet's toughest engineering, energy and sustainability challenges."
Kurt Niebuhr, Azure Compute HPC, AI Workload Incubation & Ecosystem Team Lead added:
"We welcome Barracuda Virtual Reactor to Azure and are excited to showcase this exciting technology to customers in process industries who will benefit immensely from our purpose-built NVIDIA GPU hosts that are designed to deliver superior cost performance for this workload.  Azure and CPFD have joined forces to offer customers a compelling range of options to explore Virtual Reactor on Azure and pick the best VM sizing suited to their use case requirements."
For more information about Barracuda Virtual Reactor on Azure:
Gauhar Junnarkur, Principal Program Manager at Microsoft, wrote about Barracuda Virtual Reactor's performance on Microsoft Azure architecture on the Microsoft Tech Community Blog, which can be

read here

. 

Cost and performance benchmarks for Virtual Reactor on Azure were independently performed by Capgemini, and are

published on the 

Azure HPC Github Certification Portal here

. 

Virtual Reactor usage via cloud computing was the topic of presentation at NVIDIA's GTC22 conference.  Access to "Unleash your CAD and CAE Applications with Microsoft Azure Cloud", hosted by Nicola Sessions, NVIDIA, can be found here.