Update February 2, 2023.  Webinar playback is available here.
NVIDIA will be hosting an hour long webinar on Wednesday, January 25, 2023 at 10 am CST: Accelerating Plastic Recycling using Virtual Reactor™ Technology. Register now to learn how Barracuda Virtual Reactor leverages NVIDIA technology as well as cloud computing to accelerate the development of plastics recycling technologies.
Plastic waste has become a global problem. Hundreds of millions of tons of plastic waste are generated annually with less than 10% recycled. Most of the waste stream is mismanaged and ultimately landfilled, incinerated, or left polluting the natural environment.
Join leading researchers, innovators, and engineers from the University of Birmingham, Encina Development Group, CPFD Software, Microsoft Azure and NVIDIA to learn more about the plastic waste crisis and advanced recycling technologies that are being developed. You'll explore how the CPFD Barracuda Virtual Reactor simulation software leverages the full NVIDIA stack to accelerate the development and commercialization of advanced recycling technologies and how, running on Microsoft Azure, the solution can model trillions of fluid particles over 500X faster than serialized CPUs.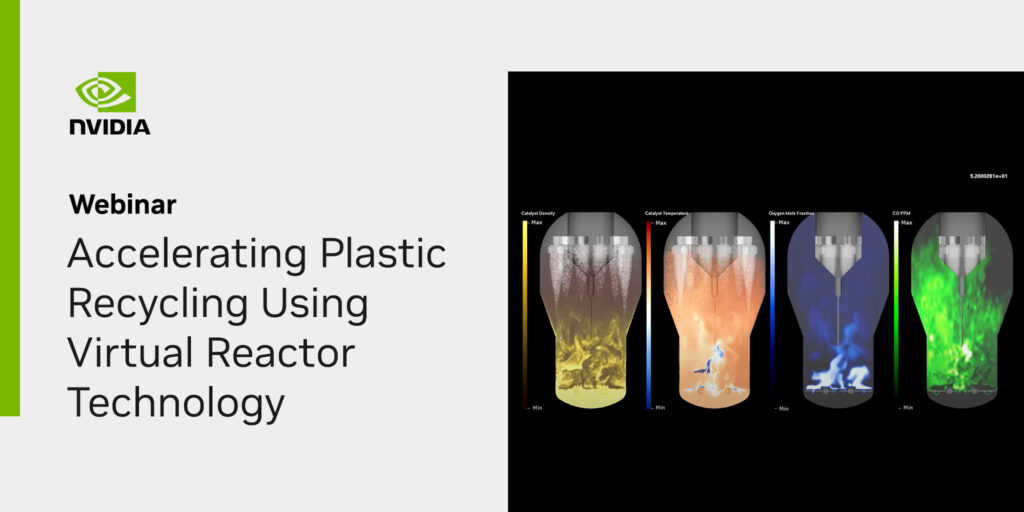 By attending this webinar, you'll learn:
How Encina designed a next-generation facility to address the 90 percent of plastics in the waste stream that aren't being recycled
How CPFD Software worked with Microsoft Azure and NVIDIA to create one of the largest real-world virtual reactor simulations ever run on any public cloud platform
Why Encina and other sustainability startups can now do more with less by using faster, cheaper modeling in Azure, helping them to deploy and scale with confidence
Join us after the presentation for a live Q&A session.
---
About CPFD Software
CPFD Software is advancing multiphase simulation and technology. Our flagship product, Barracuda Virtual Reactor®, is a physics-based engineering software package that simulates the three-dimensional, transient, fluid-particle hydrodynamics, heat balance, and chemical reactions in industrial fluidized bed reactors and other fluid-particle systems.
Virtual Reactor™ enables researchers and engineers working with advanced/chemical recycling technologies to explore a broad range of ideas, reduce physical testing costs, and minimize development risk, all while accelerating commercialization, scale-up, and overall time to market.  The simulation results provide an objective basis for effectively communicating technological merits to partners, customers, and investors, while increasing market exposure and bolstering patent applications.
The Virtual Reactor technology can be accessed via software licensing, services, or custom collaborative arrangements.