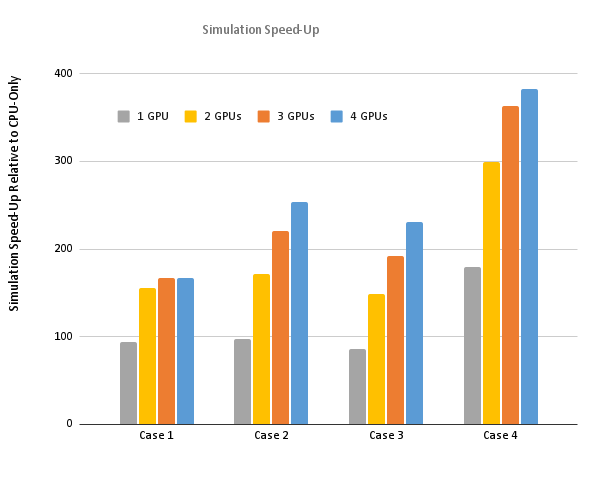 DGX A100 Station Overview 
The DGX Station is a GPU accelerated workstation, built around the NVIDIA A100 enterprise GPUs, which provides clients with the same enterprise GPUs running in the world's most powerful supercomputers in a unit that fits under your desk. Built on the Nvidia DGX infrastructure platform, the DGX Station provides a common management environment and tool kit that can easily be deployed in production at enterprise scale leveraging Nvidia DGX Data center solutions. This provides teams the ability to validate their GPU accelerated applications leveraging standards for GPUs, management software, operations workflow, and application stacks from dev/test to production, reducing operating cost and improving time to deployment. 
Barracuda Virtual Reactor on NVIDIA DGX A100
CPFD Software ran a battery of benchmarks that compared Barracuda Virtual Reactor simulations on NVIDIA A100 GPUs to CPUs.  A 50x-400x speedup was observed, where the acceleration was dependent upon the size and type of each simulation and whether single GPU or multi-GPU parallelization was utilized.  The larger and more complex the simulation, the greater the impact of multi-GPU parallelization and the greater the overall speedup.  
In terms of absolute time and business impact, this often means that simulations that would take days or weeks can now be done in hours or even minutes.  Many organizations now run hundreds more simulations within the same time frame as was previously needed for a single case, resulting in broader R&D and accelerated commercialization and scale up.  Practically speaking, the speed enables engineers to create higher-fidelity models than ever before, and previously impossible problems can now be solved in industrially-relevant time scales.
About Mark III Systems
Mark III Systems, an NVIDIA NPN Elite Partner, has partnered with NVIDIA and CPFD Software to build a Barracuda Virtual Reactor appliance (powered by DGX A100 Station and Server) to accelerate the time-to-value and simplify the onboarding and ongoing user experience for organizations leveraging Barracuda Virtual Reactor and simulation to transform their work.  Regardless of if you need to run Barracuda Virtual Reactor quietly under your desk on a DGX A100 Station or with maximum multi-GPU parallelization in the datacenter with DGX A100 Server, Mark III can customize a bundled package for with Barracuda Virtual Reactor and DGX A100, complete with white glove services for DGX installation onsite at your office or datacenter, or custom pre-staging and pre-integration at Mark III's Global Integration Center in Houston, TX, based on your unique requirements.