Efficient Simulation of Barracuda in Industrial Cement Decomposing Furnace (China) – August 18, 2022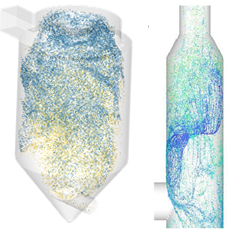 This event is hosted by Beijing Hikey Technology Co. Ltd. and will be presented in Chinese.
Relevant industry background introduction:
Cement is an important basic raw material for national economic construction. At present, there is no material at home and abroad that can replace its status. With the rapid development of my country's economy, the role of cement in the national economy is growing. According to a survey by the China Cement Association, by the end of 2020, Chinese companies had invested in and built 31 cement clinker production lines in 16 overseas countries. In 2021, with the support of government departments, the China Cement Association launched the carbon neutralization of the cement industry. 2021 is also the first year of the "14th Five-Year Plan". The construction of major projects such as new infrastructure, new urbanization, transportation and water conservancy is promoted, which brings a new development pattern for the further high-quality and sustainable development of the cement industry.
Description of the combination of software and industry applications:
Barracuda software based on CPFD (Computational Particle Fluid Dynamics) method is a commercial software package dedicated to industrial particle fluidization and chemical reaction simulation. Its advantages include fast simulation modeling method, efficient and stable multiphase flow coupling solution tools, convenient chemical reaction modeling methods, and the number of industrial-scale particle simulations. The amount of particles involved in the reaction in the cement calciner is huge and the reaction temperature is high. The use of Barracuda can truly simulate the temperature distribution and chemical process of the fluid and particles in the calciner, and it is also very good at the simulation of cyclone separators. The simulation results can be used for Guide the process design and structure optimization of the cement preparation system.
Course content:
1. Development of the cement preparation industry
2. The idea of ​​computational particle fluid dynamics
3. Experimental verification of computational particle fluid dynamics
4. Numerical simulation of cement calciner and other equipment
Related Events