AFPM 2022 International Petrochemical Conference – March 27-29, 2022
March 26, 2022

-

March 29, 2022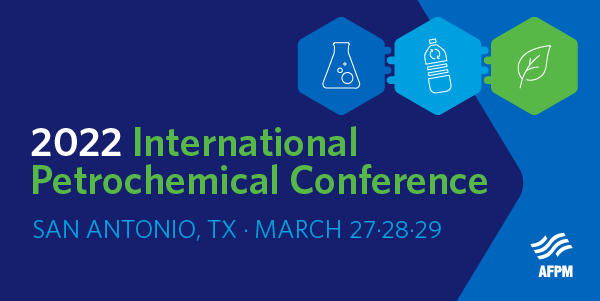 Maximize new business and hear from experts on the most pressing issues facing the petrochemical industry at the 2022 International Petrochemical Conference.
IPC is one of the largest petrochemical events in the world, attracting more than 3,000 participants from 525 companies in 55 different countries. In addition to private meeting spaces and networking events, attendees will hear from industry leaders on key political, economic and environmental issues facing the petrochemical industry.
This year's conference will feature:
A CEO roundtable discussion
A discussion of supply chain challenges and opportunities and how recent midstream policy will impact the petrochemical industry
Discussions on sustainability and the circular economy, from our industry's pioneers in the space
A deep dive into current Environment, Social and Governance (ESG) trends.
Leading industry experts on the current state and future outlook for the petrochemical industry.
The International Base Oils & Waxes Forum, a one-of-a-kind event to share technical information, marketing ideas and case studies on petroleum-based waxes and base oils.
Meeting space and networking events
Don't miss the chance to make a year's worth of business connections in just three days. Register today to secure your spot!
Related Events