AFPM 2021 Summit October 5-6, 2021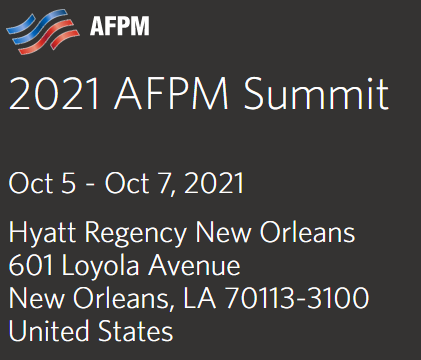 Update from AFPM: Nothing is more important to our industries than safety, and in evaluating the COVID-19 situation in New Orleans, along with the effects of Hurricane Ida on Louisiana, it is clear to us that holding this meeting virtually is the right course of action to protect the health and safety of our meeting registrants and our staff. See you online soon!
The Summit: Excellence in Plant Performance blends AFPM's traditional refining and petrochemical manufacturing technical curriculum with new creative opportunities including cross-disciplinary learning and discussion focused on tangible takeaways that drive excellence in plant performance. Topics and themes throughout the conference will highlight emerging process technologies, process safety, improved reliability and operations, mechanical integrity, training, leadership, and culture.
Related Events