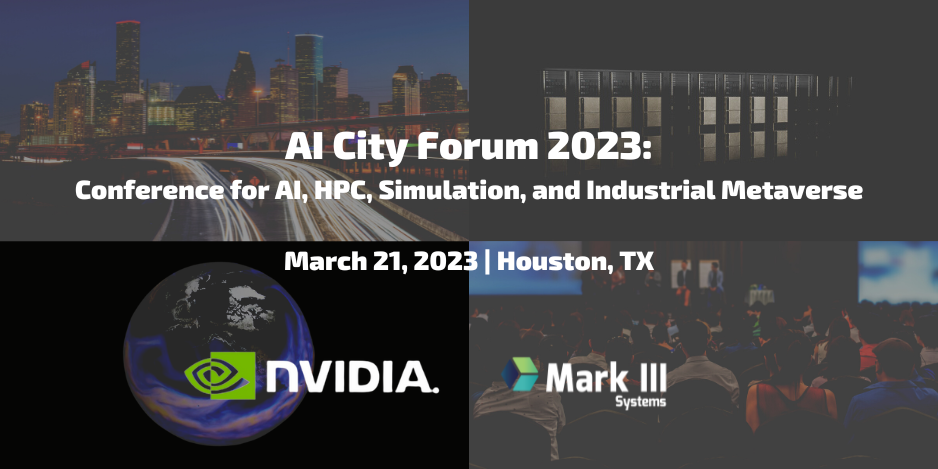 CPFD Software will be speaking at the NVIDIA AI City Forum in Houston, Texas on
March 21 of this year.
Niraj Mehta, Solutions Engineer at CPFD Software, will be speaking on the topic of "Accelerating the Energy Transition with Virtual Reactor on NVIDIA GPUs".  We welcome our user community and other interested parties in the Houston area to register and join us at this no cost event.
---
About NVIDIA AI City Forum
Accelerated computing is enabling energy companies to power our lives with more sustainable fuels and resilient grids, empowering healthcare professionals to deliver personalized medical care, and equipping IT teams with powerful tools to protect against cybersecurity threats.
To explore the possibilities, join us at the AI City Forum 2023, a thought leadership conference hosted by Mark III Systems and NVIDIA in Houston, Texas. This one-day event, coordinated with NVIDIA GTC, will feature innovators across the energy, healthcare and life sciences, and IT sectors.
---
About CPFD Software
CPFD Software is advancing multiphase simulation and technology. Our flagship product, Barracuda Virtual Reactor®, is a physics-based engineering software package that simulates the three-dimensional, transient, fluid-particle hydrodynamics, heat balance, and chemical reactions in industrial fluidized bed reactors and other fluid-particle systems.
Virtual Reactor™ enables researchers and engineers working with fluid/particle processes to explore a broad range of ideas, reduce physical testing costs, and minimize development risk, all while accelerating commercialization, scale-up, and overall time to market.  For clients who already operate industrial units, Virtual Reactor allows engineers to determine the root cause of underperformance, reduce the risk of changes through virtual testing, and optimize solutions, all while maximizing reliability, uptime, and regulatory compliance initiatives.
The Virtual Reactor technology can be accessed via software licensing, services, or custom collaborative arrangements.