CPFD Software has continued our longstanding support of the American Institute of Chemical Engineers' (AIChE) Particle Technology Forum (PTF) by sponsoring the PTF Student Poster Awards.  CPFD would like to congratulate Camila Garcia Jange and Jessica Hauck, winners of the 2021 Student Poster Competition.
---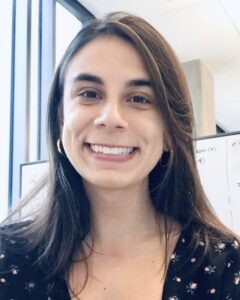 Camila Garcia Jange is a Ph.D. candidate in Agricultural and Biological Engineering at Purdue University, where she works in the Agricultural Particulates Research Group under Associate Professor Kingsly Ambrose. She is also a member of the Center for Particulate Products, and Processes at Purdue University and collaborates extensively with Professor Carl Wassgren from the School of Mechanical Engineering. Camila is originally from São Paulo, Brazil, and earned her bachelor's degree in Food Engineering at the University of São Paulo (USP). In her doctoral project, she developed a method to reduce nitrogen loss from urea fertilizers into water streams using biodegradable compounds and particle engineering design. She has been selected as the Agricultural and Biological Engineering Outstanding PhD Student of 2021 and has eight peer-reviewed publications, five of which are from Purdue University in highly recognized journals in the field of Particle Technology.
Camila presented her poster titled "Microstructure Design and Release Kinetics of Layer-wise Agglomerated Granules".  The work investigated the influence of formulation and process design on the internal structure and nutrient release of urea granules.
---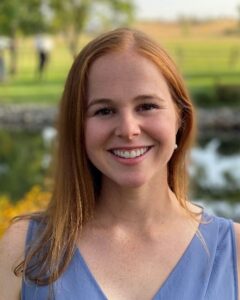 Jessica Hauck is a 2nd year PhD student at the University of Colorado Boulder. Under the advisement of Dr. Alan Weimer, Jess utilizes atomic layer deposition to study and develop catalysts for sustainable energy applications. Prior to graduate school, Jess scaled up sustainable processes for commodity chemicals at the Bay Area startup Chemistry Corporation. She earned her B.S in Chemical Engineering at the University of California Santa Barbara (2017). When she's not in the lab, you can find Jess hiking or skiing in the mountains.
Jess presented her poster entitled "Modular Processing of Flare Gas for Hydrogen & Carbon Nanofibers".  The work investigated a one-step Catalytic-Chemical Vapor Deposition (CCVD) process to produce carbon nanofibers (CNFs), carbon nanoparticles (CNPs), and hydrogen through repurposing flared natural gas.