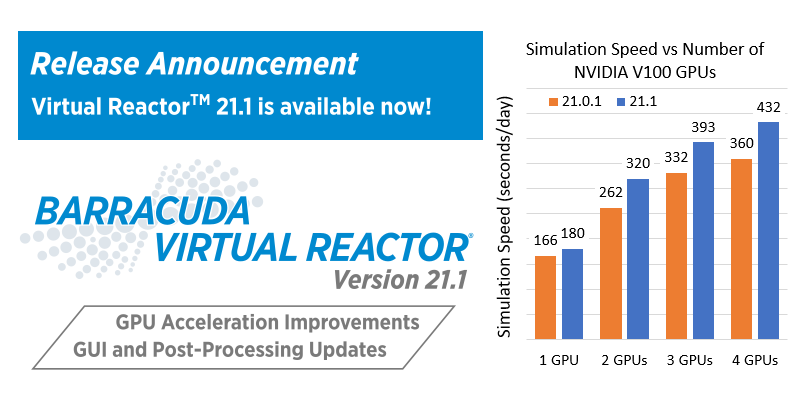 CPFD Software is pleased to announce the release of Barracuda Virtual Reactor® 21.1. This release enhances the multi-GPU capabilities of Barracuda first introduced in version 21.0 of the software by increasing the calculation speed of multi-GPU simulations, allowing for faster run-times.
We are also very excited to bundle with this release our new utility script batch_movie, which we believe will significantly streamline the video creation process for many of our users. For a tutorial on using batch_movie, click here.
This release features many other additions and improvements to Barracuda, including:
GPU Acceleration Enhancements
Thermal Baffles and New Baffle Properties Dialog
P-1 Radiation Model Improvements
Increasing Cloud Resolution when Using an Initialize from IC file
Dynamic Fluid Distribution at Injection BCs
New Variables in User-Defined Expressions
Updated Raw Data Selection GUI Design
New Log File: memory.log
"Open Terminal" Improvements
New Utility Script: batch_movie
Updated Version of Tecplot for Barracuda: 2021 R2
To download this release, visit the Barracuda Virtual Reactor 21.1 Release page (CPFD Support Site account required for login).