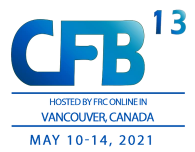 After a one year postponement, the 13th International Conference on Fluidized Bed Technology is finally underway.  The conference proceedings contain multiple papers and video presentations involving Barracuda Virtual Reactor including:
Considerations for Practical Industrial CFD Simulations of Fluidized Systems (CPFD and PSRI).  Presentation playback available here.
Root Cause Analysis of Afterburn in RFCC Regenerator using Computational Fluid Dynamics (ADNOC Refining, CPFD)
Attributes of an Eccentrically Positioned Vortex Finder on Primary Cyclones (PSRI, MK Engineering)
CPFD Simulation and Equipment Design of a Novel Fluidized Bed Desulfurization Wastewater Dryer (Tsinghua University)
Three-Dimensional Full-Loop Simulation of Cold Gas-Solid Flow in a Pilot-Scale Dual-Fluidized Bed System (Technical University of Denmark, Haldor Topsøe)
Effect of Solids Inlet and Outlet on Hydrodynamics of Bubbling Fluidized Beds with Macro Solids Circulation (China University of Petroleum, University of British Columbia)
The MP-PIC Method for CFD-Simulation of Biomass Gasification in a Lab-Scale Fluidized Bed (Hamburg University of Technology, Nanjing Normal University, Southeast University)
Study on the Dynamic Characteristic of the Circulating Fluidized Bed Whole Loop at Variable Load (Tsinghua University and North China Electric Power University)
CPFD Software is honored to be a Gold Sponsor of CFB-13 and conference attendees are encouraged to visit CPFD's virtual booth to learn more about Barracuda Virtual Reactor including the upcoming version 21 release.  For more information, or to register, visit cfb13.org.