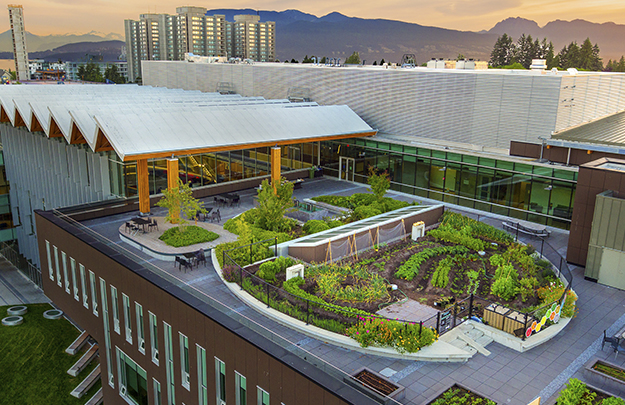 The Nest, located at the University of British Columbia (UBC) is one of the world's most sustainable buildings, and venue for CFB-13.
CPFD Software is a Gold Sponsor of the 13th International Conference on Fluidized Bed Technology also known as CFB-13.  Originally scheduled for May 11-15, 2020, CFB-13 had been postponed to May 10-14, 2021.
Since 1985, this international conference has been the forum for both the academia and industrial professionals to showcase the latest research and discoveries related to fluidized beds. The 13th Conference is being held at the University of British Columbia (UBC) in Vancouver, Canada, hosted by the UBC Clean Energy Research Centre (CERC), UBC Fluidization Research Centre (FRC), GLAB Reactor and Fluidization Technologies Inc., and the UBC Department of Chemical and Biological Engineering. The conference venue is at the Alma Mater Society (AMS) new student union building – The Nest, an 11,000 square foot haven for event organizers and an enhanced learning experience for attendees.
Key Topics to be addressed are:
Fluid dynamics of gas-solid flow
Modeling and simulation
Heat and mass transfer
Fine particle and nano-particle systems
Process design and scale-up
Measurements and instrumentation
Fluid catalytic cracking and other catalytic processes
Combustion, pyrolysis and gasification
Looping processes
Industrial experience
CPFD Software is pleased to participate in and sponsor CFB-13. CPFD's Sam Clark, and Peter Blaser, together with PSRI's Ray Cocco, will be presenting a paper titled Considerations for Practical Industrial CFB Simulations of Fluidized Systems.
A Fluidization Technology Short Course, also sponsored by CPFD Software, will be offered by world-renowned fluidization experts on fundamentals of gas-solid fluidization design and operation as well as common commercial applications. The full day event covers topics related to fluidized bed hydrodynamics, scale-up, and modeling, as well as specific applications in the chemical/petrochemical and energy industries.
CPFD Software's proprietary fluid-particle simulation technology, Barracuda Virtual Reactor®, is now deployed on 6 continents enabling successful design, scale-up and troubleshooting of fluidized bed processes in refining, petrochemicals, gasification, power generation, materials processing and clean energy industries.
To set up a one-on-one meeting at CFB-13, contact us at info@cpfd-software.com. Learn more about the conference and registration here.